Chapter  (xxx) of a work in progress
The theater years
At this advanced age of over 70, I can still recall my childhood memories but the time line is often blurred. I guess I categorize them into often overlapping files. A very large file might be labeled "the theater" In the early 50's while we still lived in Decatur, Mom and my stepdad had a summer theater in Blue Mound Illinois. It was in their park. There were good and bad times there. My weekends were spent playing around the theater while Mom and Bill (That's what I called my step-dad) built additions to the outdoor stage and out buildings. In the beginning the actors would have to change in a neighbor's house across the street. Later they built a dressing room. It was just one room and there was no room to be modest. Remember that Scorpio influence?  I liked the dressing rooms. I had a crush on one of the younger actresses. OK, I was what, about 8, but I knew what I liked. She was in her early 20's – an older woman.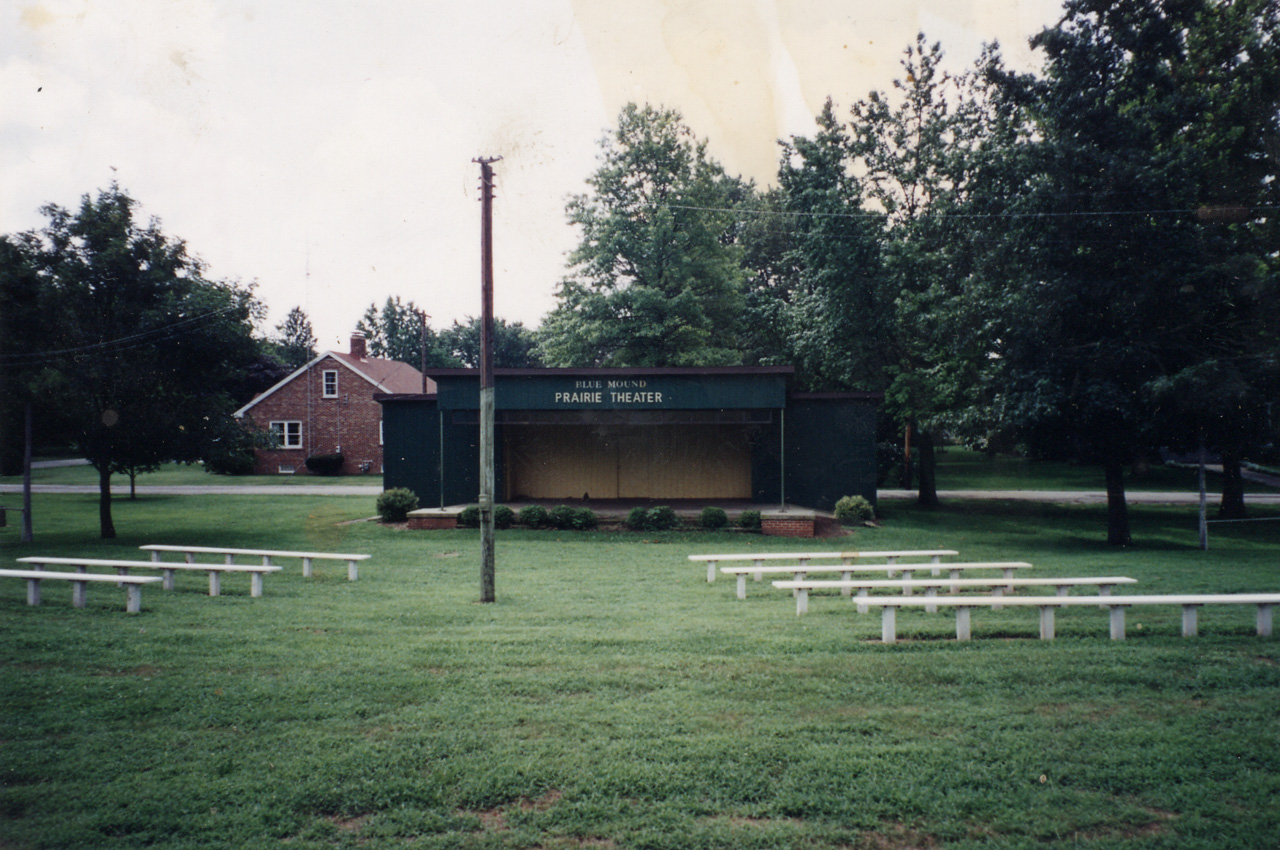 I also remember the nights after the performances. The cast would go to a neighborhood bar. I had to go too. Those were the days without smoking bans and I can remember how my eyes would burn from the need to sleep and the excessive smoke. It seemed like the bar would never close. Sometimes I would try to sleep on a booth bench or even in the corner on the floor. These were some of the not-so-good times. I just wanted to go home and go to bed.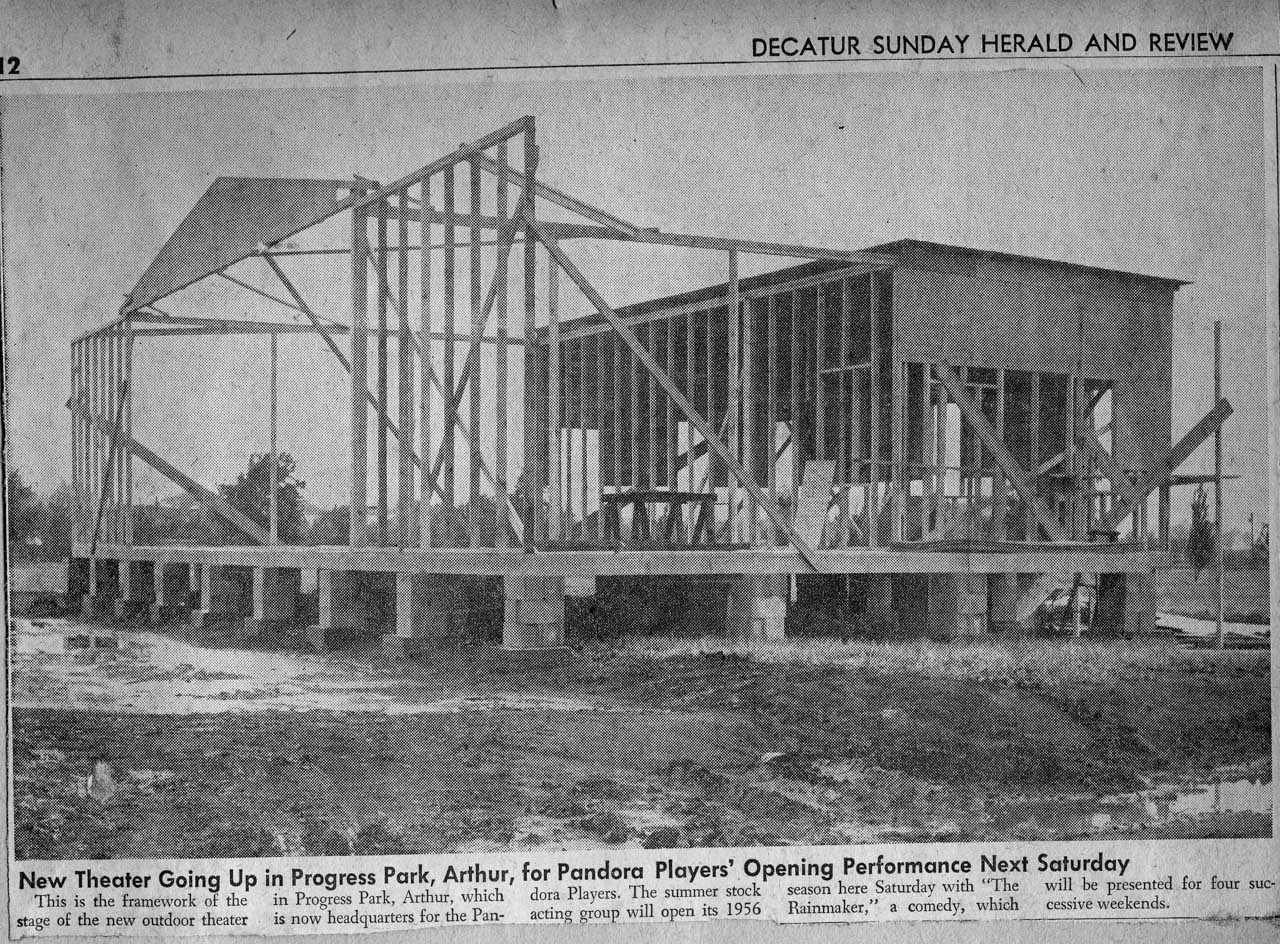 About the same time that we moved to Springfield so Bill could take a job with a local radio station, a manufacturing plant in Arthur Illinois, offered to build us a new outdoor theater. It would be state of the art. I guess they wanted to bring a little culture to the community.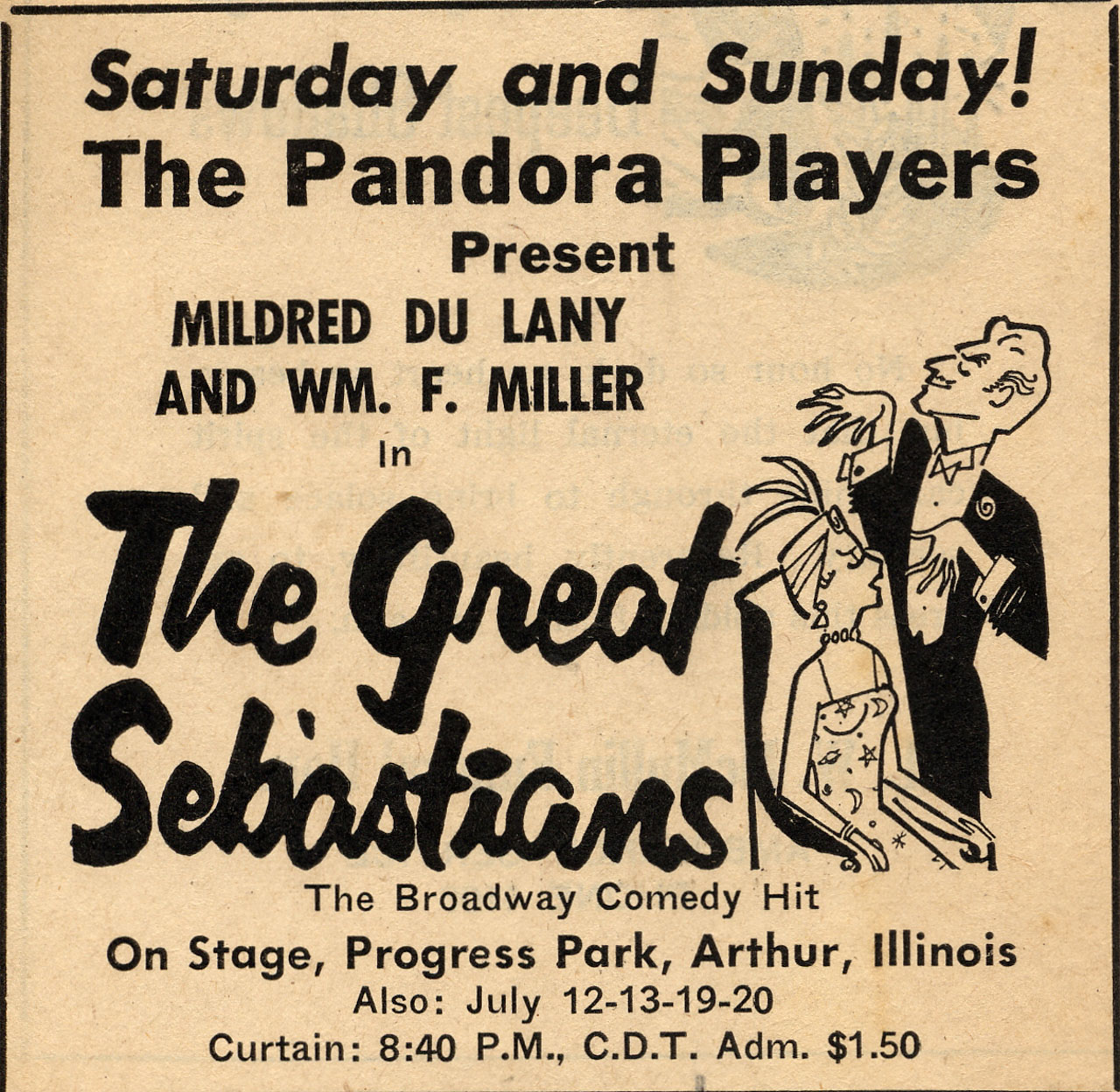 The theater was beautiful but it was away from Decatur enough that the crowds just didn't follow us. I was in a couple of the plays and I enjoyed that. I also helped a lot with the technical side. I remember the dressing rooms were now separated and as I was getting older, it was harder to hang around and watch the girls. I guess I was a dirty old man at 12!  We would stay in a motel after the Friday and Saturday night performances and I would share a room with Bill and my Mom. After they thought I was asleep, they would have sex. It was arousing and very uncomfortable at the same time. It probably had a more profound effect on me than I realize. I was growing up far too quickly.
There were many fun times in the theater. I'll never forget closing nights. Our plays ran for several weekends in a row and during the time we were presenting one show another was in rehearsal to be ready to open the weekend after the previous one closed. Opening nights were usually a little rough but by the time we were at the end of the run, everything was running like clockwork. All the actors were professional quality and could cover up almost everything. On closing night, it was everyone's goal to break up another actor without jeopardizing the show. The audience could never know anything unusual was going on.
The most common gag was the "not so blank" notes. On the stage, when there was a letter or telegram or any kind of note used, they were normally blank. But on closing night, that was never the case. I remember one telegram that contained a beautiful drawing of a naked woman complete with stage-makeup hair placed in all the necessary places. The trick for the actors was not to show any unusual reaction. They would often ad-lib to get someone else in on the joke. They might look at the note and rather than read it, they might say, "You should read this." And pass it onto another actor. By that time in the run, they knew the contents and could recite it but then again why not pass it on to someone else?  The note might contain a joke or a picture. Anything out of the ordinary could be used. Another joke regarding letters was to tape them up so they were difficult to open. In this case it was necessary to get the note out of the envelope without looking like you are struggling. Keep in mind this would never work if the actors were not very good because under no circumstances could the audience know. I have seen the actors turn away from the audience while they tried to recompose themselves all the time while the other actor was ad-libbing to keep everything moving properly.
Most of the jokes used props. There might be real wine in the glass rather than colored water. There might be a funny face on a watch. The list goes on but one of my favorites was a piece of luggage. On closing night, it was full of things like fireplace andirons, a box of nails, anything we could find that was heavy. It was placed close to the door to be carried in on with an actor's entrance. There was no thought to pick it up prior to the entrance time so when Bill heard his cue, he attempted to pick it up and go on. What a surprise but there was nothing to do but carry it on. Remember, nobody in the audience could know so the struggling had to be undetectable. So what did he do when it was time to carry the bag off? Pass it onto someone else! "Grab that bag for me would you Hank?" No use wasting such a good prank on just one person.
Some of the pranks were produced by the technical staff, who often were also the actors. I remember one time where someone looked out a stage window and commented on a car out in the pretend street. It was supposed to be a red sports car and the line was, "It looks like a damn fire engine." You guessed it, we had a toy fire engine complete with flashing red lights outside the stage window. Another time we set up a red spotlight in the fake fireplace and when the actor threw in a piece of coal, we flashed the light. The actor was caught off guard and threw in another to see if it would happen again. This went on for what seemed like eternity until all the coal in the bucket was gone
For those of you not familiar with theater settings, the stage set is constructed of flats that were 12 feet tall and different widths up to about 5 feet. 60 inches was the width of the muslin material used to cover the wooden frame. The frame is covered with the muslin material which is glued and stapled in place and then it is painted which causes it to shrink tightly on the frame. To make the shrinking material stay smooth, the muslin is painted with a big "X" from corner to corner or sometimes two  "x" s; on above the other.  Wooden dowels are set into the inside edge of the frame  on both side edges.  These flats are stood up and lashed together with ropes from dowel to dowel.  The ropes were permanently attached to one side of each flat. Once they are all together, they are relatively stable.  Right angle braces were nailed temporarily to some flats and held down with concrete blocks or sometimes nailed to the floor. On Friday afternoon, we would have to go to the theater and set up the set for the weekend. On Sunday after the show, we would have to take it down and put it away for the week. If you recall, I said this was outdoor summer theater so the set had to withstand the elements as did the actors.
On a hot summer evening, with the lights up full out in the middle of Illinois farm land, there were more bugs than you can imagine. They were everywhere and I do mean everywhere. You might find them crawling up your leg or down your blouse or shirt. This could be very disconcerting. When it was time to take a drink out of a glass sitting on stage, it was necessary to strain the watered down tea through your teeth to keep the swimming bugs out. But the show must go on.
Another problem with outdoor theater was noise. The neighborhood drag races we endured in Blue Mound were replaced by quieter Buggy races in Arthur, home of  the Amish. But they also had a busy train track. Keep in mind the actors didn't have personal mikes in those days. Sometimes,  there were stage mikes across the front of the stage but if you didn't know how to project your voice, nobody would hear you. When you had to compete with a train, guess who wins? The actors would go into suspended animation. You think it takes forever waiting for a freight train to clear a crossing; try freezing for that time.
There was another outdoor problem even worse than trying to stand still for a train passing. That was trying to keep the set still during a wind storm. When I described the construction of the individual flats, you might have seen them as large rectangular sails in your mind. You would not be far from the truth and when you have up to 100 feet of them lashed together, you have a large sailing ship under full sail. Even a slight wind would start to ripple the muslin and rumble almost like thunder; and as the wind increased, some flats would start to lift off the stage. Yes, they were weighted or nailed down but a few nails were no match for a wind storm. Back stage we would be running around trying to put weight on the attached braces. Some times that weight was us holding tightly. Where is that good heavy suitcase when you need it? If you have ever tried to carry a piece of paneling or any other large piece of material out in the wind, you have a small idea of what it was like. If we were lucky the wind would subside. If not, it reached a point that we had to either strike the set (take it down) or lose it! There were times when the audience came up on stage and helped try to save the set. I think this exemplifies the "family like" relationship we had even with the audience. They became one with the actors and their character.
There were other times when an overnight storm would devastate the set and us when we returned the next morning knowing we would have to rebuild the set somehow to get ready for that night's performance. I was only a kid then so I didn't fully realize what it was like. I knew how upset my parents were when they saw the mess. I didn't think about the responsibility of having to rebuild for that night's show or cancel the performance. I didn't think about the money. Now I understand what it must have been like. When you are born to act, the curtain call is euphoric. It is a shot of a super drug. You can't just give it up. It is an addiction. To feed that addiction, you must rebuild and not consider the cost. You must continue to produce shows even when you are always in the red. You have to have it.
It was a good thing Mom inherited a lot of money because she had to bankroll the habit. But all the setbacks took their toll. One year, Bill went to New York and interviewed professional actors to form a new summer stock theater they planned to open in Bushkill Pennsylvania in the Pocono Mountains.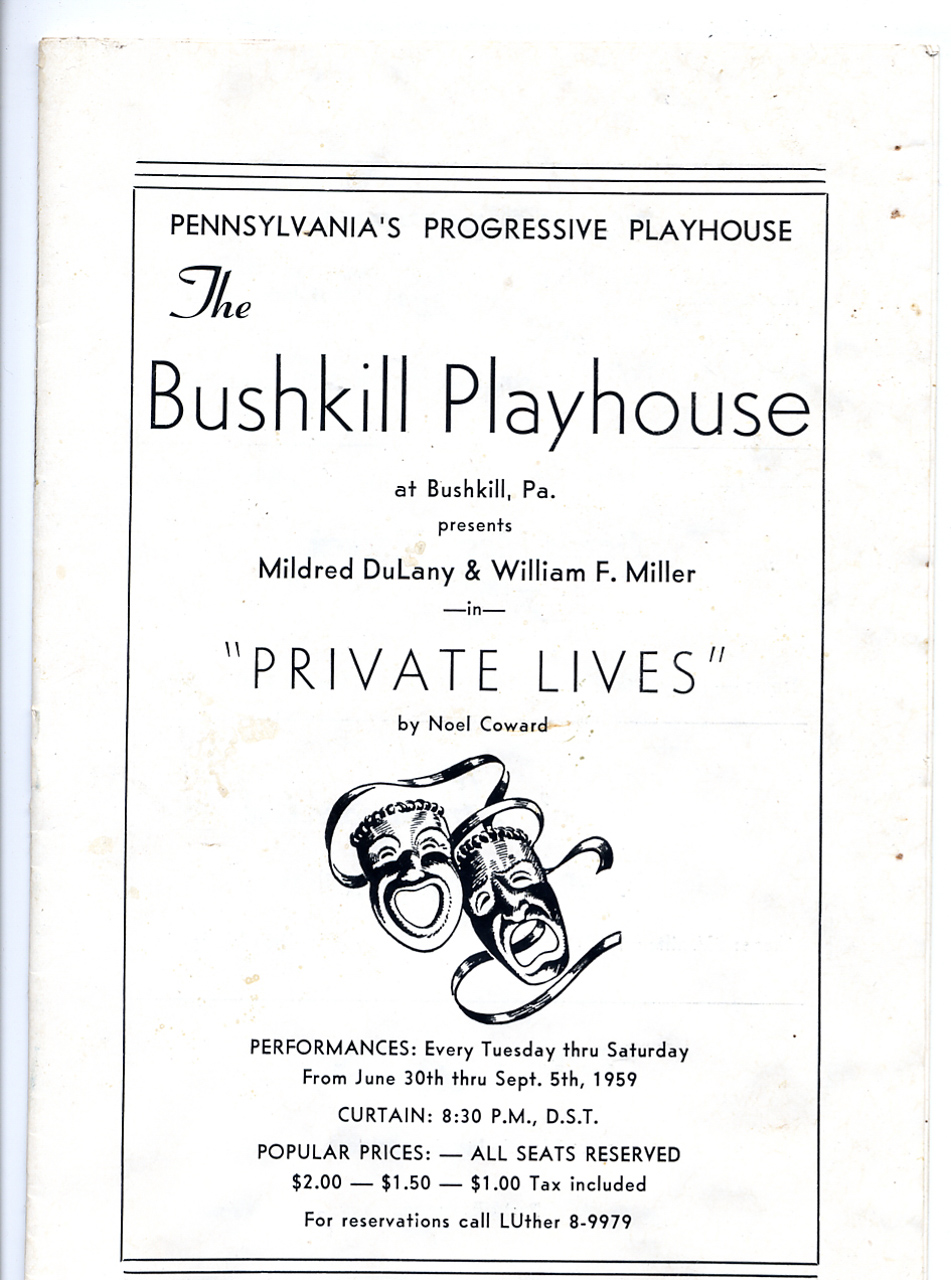 By this time, I was about 14. I remember that because I learned to drive that summer in the parking lot of the new theater. This was an inside theater and we didn't have to worry about weather. Unfortunately, we didn't have to worry too much about pleasing the crowds either because there weren't many. The thoughts of filling the house with vacationing Easterners never materialized. Although, I made some new adult friends, it was another wasted summer and a costly one to Mom.
The final chapter of my theater remembrances took place in Springfield where they opened a new style theater. In the ballroom of the Abraham Lincoln Hotel, they opened a dinner theater. For a minimal fee, theater goers got a great dinner, a glass of champagne and a play. The theater was known as the Champagne Cabaret Theater.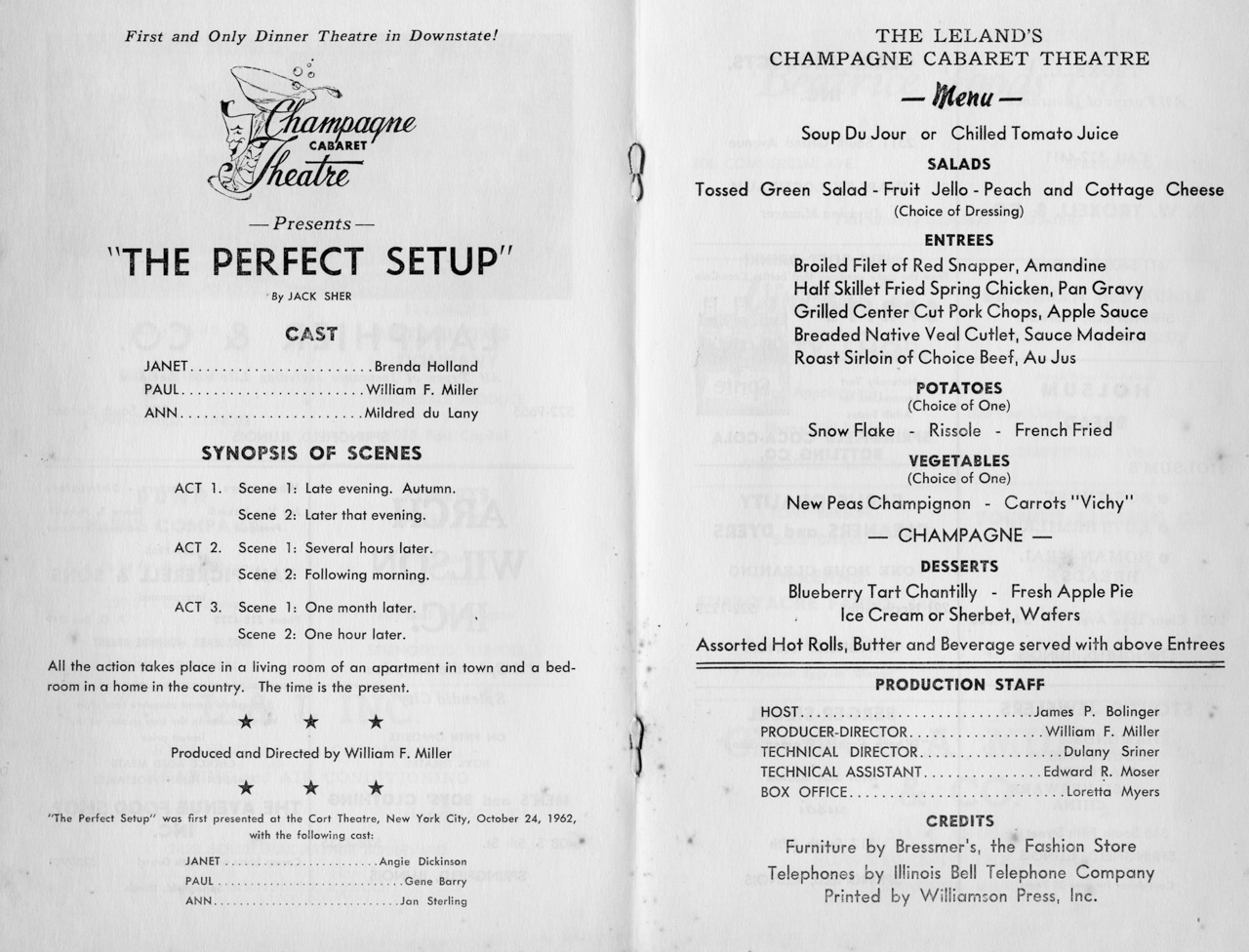 I was the technical director. I built the minimal sets and did the lights and sound. For the first time I even got paid. This endeavor actually made money but not much. Mom ran the office taking reservations during the day and they rehearsed in the evenings. I did the technical work. This was probably the first time Bill showed me any respect. It was that or pay me a decent salary. After graduating from High School, and a year at the local College, I went to work in Chicago and attended DeVry Institute of Technology. I drove home on the weekends to do the lights and sound for the theater. In 1964…. The Abe Lincoln was scheduled to close and The theater moved to the Leland Hotel. It was never as successful there.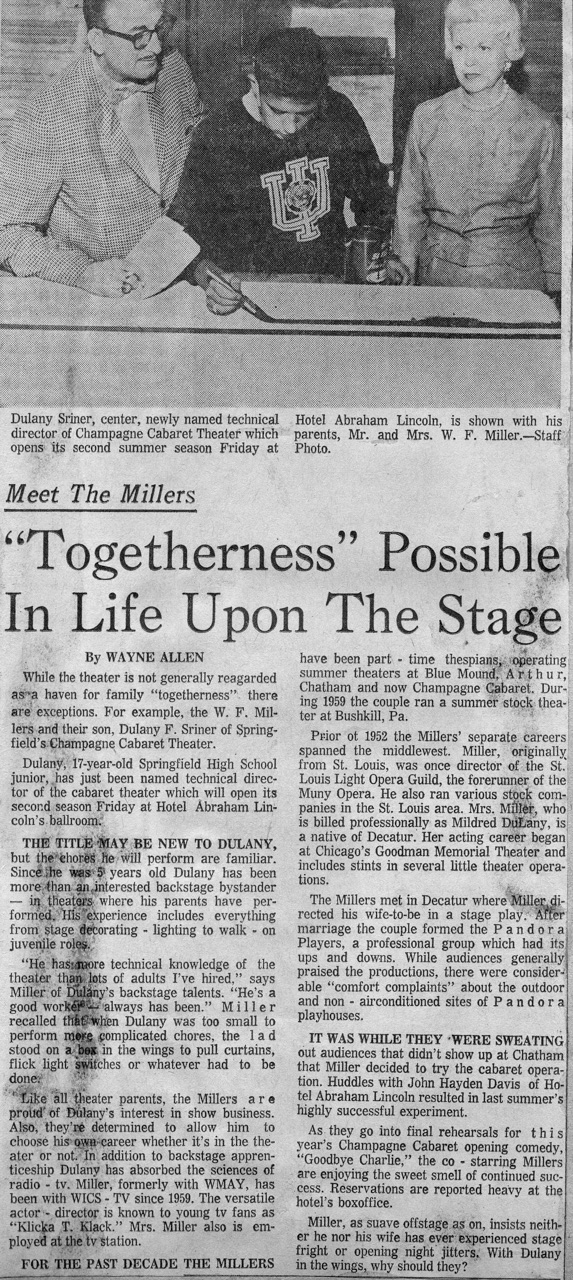 During my stint as the technical director, I carried on the closing night tradition but the actors we used were not the same as the ones back in Blue Mound and Arthur. There was not the same comradery. They were not family friends and most of them were not local. It was not the same. But I remember my favorite prank.
Normally stage phones are dead. The actors talk to dead air during stage conversations. Closing night of one show was different. I hooked up the phone to my sound system and when Mom picked up the phone, I played "go little Honda" over the phone. The significance of the song was that I was trying to get permission to get a Honda motorcycle. I never did get a motorcycle until after I was married. I almost broke her up with that. The next conversation was with Bill on the phone. This time I used my microphone and talked back to him. Needless to say, it was nothing like what he was expecting. We all got a laugh out of that one. It was a prank not to be topped. I don't remember much more about the theater. In 1968, I was married and moved away. . Those were good times that I will never forget. I considered the actors my friends and I related better with them than my own peers.
Bill and Mom didn't do much after the theater closed at the Leland. They did some one act plays for organizations. They tried to do some local work but when they were no longer in charge, the parts dwindled. They did try a season out at Clayville, a historical farm west of Springfield and a season in the Elks ballroom.  They were not very successful financially.  Bill took a very small part in a play in Sullivan where they bring in stars for the primary rolls. Bill's world was slowly collapsing around him. He had a major heart attack and several other health issues. He lost his job at the TV station for health reasons and was out of work for some time. In 1976, he tried out for a lead in Fiddler on the roof at the local Municipal opera. Had he not gotten that part, he would have been devastated. He died of a second massive  heart attack before he found out if he got the part. Perhaps, inside he knew it was not to be and he preferred to back out of life gracefully. His ashes were scattered over the grounds of that first summer theater in Blue Mound, IL.  His journey was over; most of Mom's money was gone. She spent the next 15 years either drunk or strung out on prescription drugs.